Share:
The United States Golf Academy at Swan Lake
The Academy uses state-of-the-art technology like PuttLab and TRACKMAN
By Glen Turk
In this age of endless golf information, there are countless ways and means to learn to play the game of golf. You can follow the latest instruction article or video, take advice from the internet, or learn the old fashion way by taking advice from friends, based on the ideas they have seen, heard or read. Regardless, any or all of these approaches lead to continuous trial and error, usually leaving the player more confused and discouraged than improved. Eventually, the inevitable frustration usually drives a player to consider professional help, either in the form of a single lesson, or for many, the total immersion of attending a golf school or Academy.

For 39 years the United States Golf Academy has been the choice of thousands of golfers looking for the satisfaction that comes from an improved golf game and the understanding of how the improvement was achieved. This is a successful operation achieved from longevity and positive "word of mouth" recommendations from our students, rather than slick marketing and false promises. The Academy's promise is simple - a better golf game for our students!


Amenities
There are few if any golf schools in the world that can offer the amenities of the United States Golf Academy. The Academy has one of the largest buildings in the United States - 7000 square feet - devoted entirely to golf instruction, and club fitting. Outdoors our green grass facilities cover 20 acres, allowing you to practice every shot in the bag. The Academy also has protected areas so your practice need not be interrupted by the weather.
Technology
The Academy uses the industries standards in golf swing, ball flight and putting analysis. The Trackman launch monitor and Puttlab technologies are the most accurate and informative technologies available and they are used everyday in the pursuit of a better golf game for our students. In addition, the Academy features the latest club fitting technologies and has a huge inventory of demo and test equipment. Also integrated into the Academy are two state of the art golf simulators, which our instructors use to create specific strategic situations and our digital video system to give our students a visual perspective on their swings.
Experience and Expertise
The Academy's staff of PGA professionals is recognized throughout the golf industry for their knowledge and expertise is the areas of instruction and club fitting. Not only are they the people that the golfing public seeks out for advice, but they are also the experts sought by their peers in the golf industry. The Academy consults for an ever increasing number of equipment manufacturers on golf equipment recommendations. They are continually sought out by other PGA instructors to share their knowledge and experience on club fitting and golf instruction.
Most Important !
The professionals of the United States Golf Academy understand that real improvement for all golfers comes not from finding the perfect method, but, from perfecting a student's personal method. To take this approach our instructors must be completely knowledgeable in all aspects of the game. They understand exactly what happens when a golf club strikes a golf ball and are fully versed in the countless options available to achieve that collision. This expertise allows us to create the proper plan of action for each student we encounter. No short cuts, no generic explanations and especially, no judgments of right and wrong until the plan is in place. All instruction is tailored to your golf game. It takes a facility, the technology and expertise assembled at the United States Golf Academy to make this level of golf instruction available to all players.
For more information about The United States Golf Academy and its programs call 1-800-935-5401 or go to
www.usgolfacademy.com
.
Article Tags: The United States Golf Academy
Revised: 12/17/2010 - Article Viewed 22,701 Times
About: Glen Turk
---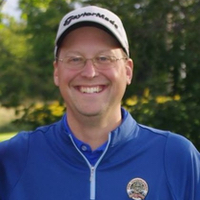 Glen Turk is a Wisconsin native and is the Senior Writer/Editor of Midwest Golfing Magazine. Midwest Golfing Magazine was formerly known as Pub-Links Golfer's Magazine and is a free publication distributed four times per year throughout Wisconsin, Illinois, Michigan, Minnesota, Iowa, Indiana, and Ohio.

His duties at MGM include writing course features, facilitating product testing, and overseeing the overall content and look of the magazine. But clearly his most important task is playing as much golf as his wife allows. Fortunately for him, she plays also and loves out-driving him even with a 60 yard head start.

Glen plays to a 6 handicap but once set a record by having his ball retriever regripped 15 times in one calendar year. It was a December trip to Guam that ultimately did him in. Finally, if you haven't caught on by now, the two most worthy weapons in Glen's writing arsenal are self-deprecating humor and pithy one-liners.

My signature line, "Be A Force on The Course" and now more recently, "Hit 'Em Where They Mow!" can be reused at no charge.

---
More Articles by Glen Turk