Share:
---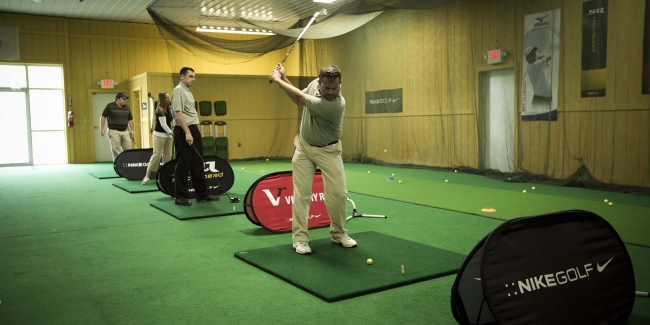 The Importance of Practicing Year Round
Golf Tip of the Month
By Brian Natzel
Ever wonder why most professional golfers come from southern climates? Sure there are a few exceptions, but why do southern players seem to dominate at the high school, collegiate, and tour levels ? Do they just eat better, sleep better, or simply have better genetics?

Let's put things into perspective. A southern golfer has roughly five more months a year to play and practice. So if one hits 100 balls 3 times a week, than over the course of 5 months you've hit 6000 less shots. How about over the course of 5 years? 30,000 less practice swings, hundreds of rounds less, and 25 months behind our southern athletes.

Now think about a junior golfer in this situation. Especially when we know that development and learning is at a much higher curve in our younger years. If we add this multiplier to the 25 months an adult falls behind, think about how much of an advantage young southern people have over our junior athletes. I can't stress enough how important it is for children and young adults to keep things fresh. Adults too!


The Answer
KIDS 18 AND UNDER CAN HIT FREE RANGE BALLS INTO THE NETS INSIDE ALL WINTER LONG!!! DISCOUNTS FOR OTHER SERVICES AVAILABLE TO JUNIORS TOO!!!
The Golf Academy at Swan Lake Resort is Open 6 Days a week this winter from 9am to 5pm. We are closed on Mondays. Stop by to hit some golf balls (indoors and outdoors/weather permitting), play golf in the simulators, join a simulator league, take a golf lesson with a PGA Professional, Learn how Trackman (Launch Monitor) or V1 Sports Motion (High Speed Camera and Sports Motion Analysis Software) can improve your game, or get custom fit by one of the Nations Top 100 Clubfitters. We have everything you need to stay on top of your game this winter, so you can come out ready to play and not fall behind the competition. Trust me, they are practicing, playing, and getting better.
We can keep you warm, stretched out, informed, well practiced, and get you fine tuned even in the Winter. Stop by or give us a call for an appointment.
Revised: 11/17/2012 - Article Viewed 22,163 Times - View Golf Course Profile
Share Comment
Written By: Brian Natzel

Brian Natzel, PGA, is the Director of Instruction at The Golf Academy at Swan Lake Resort. Brian leads The Golf Academy's PGA staff in the effort to take each students game to the next level by offering a wide variety of instruction and performance packages.