Share:
---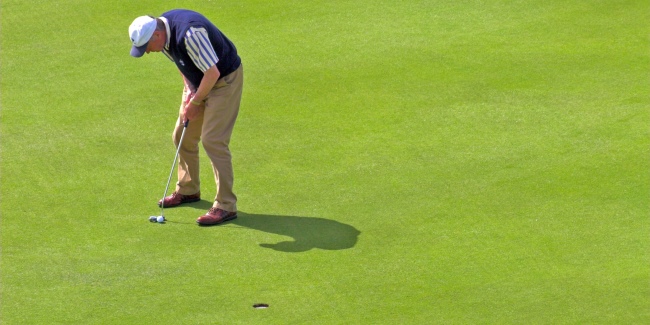 How To Lower Your Golf Scores
Golf Tip
By Brian Natzel
Taking Your Score Low
At this level it is all about fine tuning and getting the most out of your scoring opportunities. The best way to drop a few strokes is to sharpen your putting. You need to lag the long puts close, make the ones five feet and in, and get the occasional longer one to fall in the cup.

Lag It Close
For long putts, I think mostly about the speed, although I do pick a spot a few feet in front of me as an aiming point or intermediate target. But once I am confident about the line, I only have positive thoughts that I will hit it close. If I don't feel comfortable I will start over. I also try to use a little more right hand in my putting stroke, releasing the toe of the putter to the target. My right hand is the lower hand in my stroke. I apply a little more pressure in my right index finger to help it feel the resistance and to help the toe roll over through this longer yet smooth stroke.

Make the Short Ones
On short putts, my goal is to make a straight back and straight through stroke, keeping the putter head low to the ground. I want the putter head to stay under the shaft. Stay patient and keep you body and head still. Never rush the short ones.


Article Tags: lower golf scores, golf tips
Revised: 01/13/2013 - Article Viewed 21,313 Times - View Golf Course Profile
Share Comment
Written By: Brian Natzel

Brian Natzel, PGA, is the Director of Instruction at The Golf Academy at Swan Lake Resort. Brian leads The Golf Academy's PGA staff in the effort to take each students game to the next level by offering a wide variety of instruction and performance packages.