Share:
---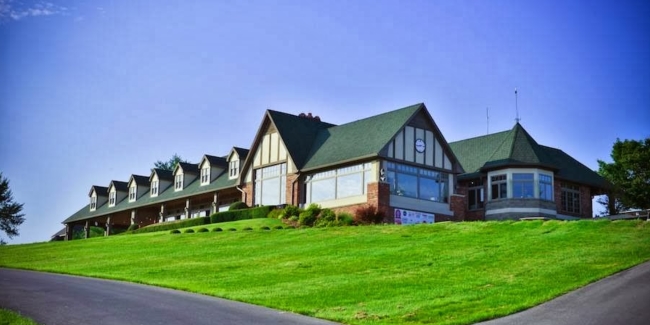 Covered Bridge Golf Course Review
It's Back Home in Indiana
By Mike May
When you 'mix' the game of golf, a historic Indiana landmark, and southern Indiana's most beloved golfer, you get Fuzzy Zoeller's Covered Bridge Golf Course (www.coveredbridge.com/812-246-8880). It's a golf course that you can't help but love and adore. If you like Fuzzy, you'll like his course. When you play Covered Bridge, you can just imagine Fuzzy walking along, whistling to himself, and enjoying the golf experience as well as the flora and the fauna that is unique to southern Indiana.

If you do some historical research about life in southern Indiana, you'll learn about the significance of covered bridges in the daily life of those that have lived in this 'neck of the woods,' albeit during a bygone era. The covered bridge represents the essence of what day-to-day life was like for years in southern Indiana. It was the trademark symbol of their lifestyle. With so many rivers, streams, and creeks in southern Indiana, the covered bridge enabled communities to connect with one another, especially during tough times in the winter. So, it's only appropriate for Fuzzy Zoeller -- born and raised in this part of the world -- to name his golf course after such a historic symbol of Hoosier life. Kudos to Fuzzy, who lives near Covered Bridge, to honor his Hoosier roots with a golf course named after such a unique and special Hoosier landmark.

Without a doubt, this golf course has evolved into one of the favorite layouts in the Hoosier state. Today, Covered Bridge is as popular and talked about as other great Indiana courses such as Brickyard Crossing in Indianapolis, Otter Creek in Columbus, The Fort in Indianapolis, and the two world-class golf destinations in nearby French Lick - The Donald Ross Course and The Pete Dye Course. Speaking of Mr. Ross, the late renowned Scottish golf course architect, he would have approved of Fuzzy's creativity and imagination at Covered Bridge, a rural piece of real estate in 'suburban' Sellersburg, just a few miles northwest of Louisville.

Upon arriving on the premises at Covered Bridge, it doesn't take long to realize that this is Fuzzy Zoeller's course. To begin with, there's one parking space in the parking lot with a sign attached to it which reads 'Reserved for Fuzzy.' As you walk to the pro shop, you can't help but see the statue of Fuzzy that also chronicles his lengthy list of golfing achievements. In the lobby of the clubhouse, there's a glass-enclosed display case that showcases significant memorabilia from Fuzzy's ongoing golf career. As you walk to the driving range, you'll see shrubbery which has been trimmed into a distinct five-letter word: F-U-Z-Z-Y. And, the back tees are the 'Fuzzy' tees. This is truly the course that Fuzzy built! And, you are invited to come play.

If asked to use two words to describe Covered Bridge, 'beautiful' and 'brilliant' immediately come to mind. At Covered Bridge, it's golf as it was meant to be - an enjoyable experience intermixed with a number of thought-provoking shots. Simply put, it's a golf course that is pleasing to the eye and one that you will relish playing day after day, week after week, and month after month. At Covered Bridge, the course is playable, the greens are puttable, and the rough is manageable. And, the scenery of the surrounding Hoosier hills - the Floyds Knobbs - is unforgettable. If your putter is 'hot,' you can post a good score at Covered Bridge, as you'll be able to save a bogey, secure a par, and snag a birdie or two with one-putt experiences. Double bogeys or worse can be had at Covered Bridge, if you are careless and don't pay attention to detail. With a GPS system on every cart, there's no excuse to hit the wrong club unless you underestimate the power of the breeze, if and when it makes an appearance.

One of Fuzzy's philosophies when he built this course was that he wanted to cater to the amateur golfer. His goal was not to build a course that would challenge the best players in the world. Instead, he wanted to build a course that would challenge, entertain, and delight all the players in the world. As the course brochure states, "each hole offers a choice of five separate tees matching the course to the ability of any player." At Covered Bridge, Fuzzy has catered his course to all golfers - young and old, male and female, pro and amateur.

The practice facilities at Covered Bridge deserve a special mention. They are championship-caliber. There's no excuse for not being warmed up before you step foot on the first tee. Fuzzy's design team created a driving range with multiple 'bays,' a large practice putting green, and a number of practice sand bunkers.

As you would expect, an actual covered bridge sits on the course and is used by golfers who must cross a stream to go from the 2nd green to the 3rd tee. That same covered bridge is also used to make the transition from the 5th green to the 6th tee. Fuzzy -- whose name comes from an expanded version of the initials of his full name, Frank Urban Zoeller -- must be given credit for maximizing the value of his course's covered bridge insignia which appears on each golf cart, each flag stick, and in three places on the scorecard. Even the address of the course - 12510 Covered Bridge Road - is in sync with the course's branding strategy.

Two of the treats at Covered Bridge are the 'finishing' holes - the 9th and 18th. Not only are they both par fives, they also parallel one other. As you stand on the tee at 9 and 18, you will look directly at the clubhouse in the distance which is perched atop a sizable hill which overlooks the entire course. Truth be told, Fuzzy's clubhouse at Covered Bridge has an aura and mystique to it. As you play the 9th and 18th, you can just imagine Fuzzy and his members looking down at you from their lofty clubhouse perch. The view of the clubhouse simply exudes power and prestige. This is no time to hit a shank, slice or a hook, as people are always watching. Fuzzy would be pleased to see you secure a par or better on those two holes. It's worth noting that the 9th and 18th share a 'double green,' but it's so big that you rarely have issues with balls straying to the wrong pin.

While Covered Bridge is a first-class destination for golfers, it's also a first-class residential destination. Here, houses line a few of the fairways, but, to be totally honest, the homes truly complement the golf course and do not complicate the overall golf experience. One of the better residential views would be from the homes that sit behind the 12th tee. That gives you a great view of every tee shot on this medium-length par three.

The two pars threes on the front nine - the 3rd and the 8th -- have water that is more of a visual concern than a playing concern. The green-side edges of the small ponds that sit between the tee and the green on both par threes are not as close to the green as they look from the tee. If you are just short of the green, your ball should finish on 'terra firma,' giving you a chance to get 'up-and-down' for par. The same can be said of the pond that protects the green on the par-four 7th hole.

The most exciting 'risk/reward' hole at Covered Bridge is the 5th. The green on this serpentine par five can be reached in two, but the presence of a pond to the right of the green will 'sink' your chances of a sub-par score if your second shot veers too far right. Play it safe by hitting a mid-iron as a layup and give yourself a birdie putt. Holing your third shot with a wedge for an eagle is not out of the question at the 5th.

Finally, the best time of the day to play Covered Bridge is late in the afternoon in the spring, summer, and the fall. While many golfers may be finished for the day and enjoying a libation inside the clubhouse, that's an ideal time to play this course because it's peaceful, tranquil, and serene. Without a doubt, it's the best time of the day to enjoy the golf experience as well as the flora and fauna that is unique to southern Indiana - just as Fuzzy has done for years.

Revised: 10/28/2015 - Article Viewed 20,398 Times - View Golf Course Profile
Share Comment
Written By: Mike May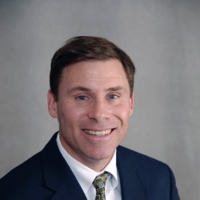 Mike May is a Wellington, Florida-based freelance golf and sportswriter, who is also a 25+ year public relations and communications executive in the sporting goods industry. He is also a veteran high school soccer official, an experienced high school basketball coach, an avid athlete, a part-time personal trainer, and a passionate golfer who is forever in pursuit of Old Man Par. He is a member of the Golf Writers Association of America.